No Nomination... :(
5.1.08
Hi fans,
sadly we did not got enough votes to compete other Farcry-Mods on www.moddb.com (see last news).

So far,
your MattoMedia team


Nominate our Matto-mods!
2.11.07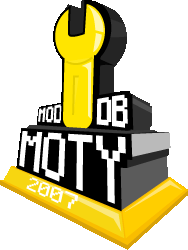 Hello visitors,
www.moddb.com has started the 6th Annual Mod of the Year Awards, and we need your vote!
If you want to nominate Matto4 or Matto3, click on the image obove or direct on following links and press the nominate button:

Nominate Matto4 on Mod-DB
Nominate Matto3 on Mod-DB
There is no registration required!


We would like to see your voting on our work,
your MattoMedia team


Matto4 Patch 1.1 released
25.01.07
After some time of bugfixing, it's finally done. Matto4 patch 1.1 is now available. We didn't fix much, although there were a lot of people who had problems. Most of those bugs I couldn't recreate, were caused by farcry or just by the users.

Changelog Matto4 ver1.1:
-fixed: Steyr/Bincoular zoom problem
-fixed: Camp loadscreen renamed
-fixed: Typos corrected
-fixed: Dying at the beginning of level two
-fixed: Bad performace due to offsetmapping on terrain on older graphics cards
-fixed: Tweaked some voice-files
-fixed: Clipping error on *unknown-gun* on lowspec systems fixed
-fixed: Added collision walls to prevent players taking bad routes

-added: Steyr secondary firemode (singleshot)
-included: editor-cryfiles

You will see there are also new features. The singleshot of the Steyr adds more gameplay and fun to the MOD. And for those who wanted to take a look at the maps in the editor, this time the cryfiles are included.
Finally the downloadlink:

Download Patch 1.1 from Cryedit
Download Patch 1.1 from extreme-players.de

Have fun with it!


Finally, Matto4 released!
31.12.06
One of the most awaited Singleplayer-modificaions for Far Cry - Matto 4 - is ready to be played by you, after about one and a half year programming ( precisely its been 1 year, 7 months and 4 days).
Matto 4 will take you about 4 hours to play through, so its rather one of those addons you have to pay for, than a normal mod. You'll fight through 7 excellent designed levels while you continue the Matto-Story by playing Jack Carver. United with new team-members you'll enter the A.R.M-Complex to fight the guy that shot you, once again.
Armed with several new weapons you'll fight through temples, industrial areas and of course the jungle.
We gave our very best to get the best graphics possible out of the cry-engine 1.

As you know, we have, besides the standard weapons, some new ones for you:
- P99 (very effective weapon, no silencer)
- M3 Pumpgun (perfect for close combat)
- Steyr Aug (as a replacement for the M4)
- Dual MP7 (very high firerate, reloading takes a while)
- no detail about the 5th weapon right now=)

But it's not just new weapons, there are some other new features, too:
- Gas bottles (You should know them from the trailer)
- fire extinguisher (explosion causes damage, white fog gives cover for a while)
- English voice output, subtitles available
- several new objects and textures

Last but not least, some facts:

- Runtime of ingame dialogues is 16 minutes
- 11 minutes of cutscenes
- the setup is about 392 MB

Finally the downloadlink:


Click on the image to download Matto4 ver. 1.0 (Special thanks to cryedit.net!)
Mirror1 (cryland.com)
Mirror2 (FileFront)

The guestbook awaits you...


Guns, lots of guns *update*
6.11.06
We've got something new for you.
As you all know, we wanted to give you some new tools... well, tools to succeed in completing your mission. The number one problem might be those jerks keeping you from doing what you're supposed to. So, what could be helpful against such a nerve-racking thing?
I think you all know it... weapons. New weapons.

We got 4 new models for you.
1. The Walther P99 - very precise weapon
2. Benelly M3 - perfect for close combat
3. Steyr Aug - like the M4? gonna love that one=)
4. Heckler & Koch MP7 - perfect for one of your "I'm gonna kill 'em all"- sprees

The following are links to some videos showing those sweet weapons in action.


Mirrors:
P99, M3, Steyr, MP7
Thanks to cryedit.net

Finally I want to thank our host http://clan00.de very much for supporting us that well.

The guestbook awaits you...


Matto4 Status + screens!
27.09.06
It's been a long time since the last news. So here are some updates. I know that you are waiting for the mod to be released, but it wont be done 'til late summer. Im sorry, but there are still a few things that need to be done. The AI is in progress right now. I'll do my best to finish it as fast as possible. An other point is the cutscenes. I really want to release the mod before Crysis comes up. So I might cancel some of them to be done earlier. (They will be replaced by ingame-conversations)
All in all it should be complete around christmas.
For those of you that cant wait any longer I've got some nice screens. Hope you like them.


So far,

Matto


Matto4 Screenshots & Overall Status!
24.07.06
As I know, you really want to play Matto 4, but though I am working really really hard on it, I wont get it done until late Summer. There is a lot of school-stuff to do and I can't work 24/7 a week. I'd really love to release it right now.
There is still a whole lot of work to be done.



1. One big cafe that's supposed to connect the first and the second level
2. Sound for at least 4 levels
3. AI for at least 4 levelst (including hide points like crates)
4. Dialogues need to be written
5. Cutscenes containing those dialogues


Anyway, looking back on whats done so far I just can say WOW.

Since the last screen-update is like a month ago, here's some new stuff for you:


The guestbook awaits you...


New Matto4 screens
13.05.06
Since we're mapping for a computer-game and the E3 takes place right now some new screen-shots would do good:


All the released screens are WIP, so no screen shows the final map or all the details you'll see when it's done. We're still adding lots of well-known "matto-details" and you'll be able to discover them all in late summer.

So far, your Matto-Team


Matto4 canalization-models released + Mappingcontest + *update*
01.04.06
Good news everyone,
We decided to release the canalization-models which were made for Matto 4. You can see them in our Gasbottle-video and on some screenshots. The reason for us to give all these Models to you is, that we want you to create your own map with Matto 4 models in it for a little map-contest. The best ones have a chance to be part of Matto 4. If you use our models in your map you can still decide what happens to the map. You dont have to give it to us, just mentione our names in your cradits =) if you want to upload your map without Matto 4. Of course, if your map makes it into Matto 4, your name will be in the credits. If you decide to send your map to us, we'll have a look at it, if it's good we'll fix some bugs and add the new weapons (which are not part of the canalization-models-package). That's it. We won't change anything else. Some screens for you (so that you know what you get if you start the download...) : Here are some screens of the models:



And this are only a few of about 150 objects (of course all snapable).
All objects have textures out of farcry and some are selfmade. Shaders are nearly all correct, specular, offset....
(Gasbottles are not included)

*update*
Some people informed us about a UVW-error and some shader issues. All fixed:
Download v.1.1 here

Note: If you want to map for our MOD, then you have to extrackt the Matto4 Folder (containing the objects folder) into your mods dir.
e.g.: F:\Far Cry\Mods\Matto4\Objects\Matto_4\Drains...
If you Start you Editor.exe with:
"F:\Far Cry\Bin32\Editor.exe" -MOD:Matto4
you also will have this objects in the rollupbar for drag and drop. The objects are right in the Matto4 folder.

Please let us know if you start making a map. And if there are any problems: matto_org@gmx.de

regards,
Your MattoMedia-Team


New Matto4 screens
27.02.06
Don't know what I could write about these screens:


You can see, we have rain and sunny beaches ;)
What I can also say is, that you can expect Matto4 later this summer and the MOD will contain up to 6 levels. If there is some time, we'll even make MP-maps basing on Matto4-style.
The guestbook awaits you...


1895 frames about a Matto4 feature ;-)
01.01.06
Fitting into the theme of new Year's Eve, we decided to release a nice video...



Click on the image to download the video
Don't think we had fun while scripting the gasbottle ;)
Write your comments in the Guestbook...

More feast for the eyes: Matto4 shots
08.12.05
Okay, it's time for some new shots for you, here they are:


(All screenshots are work in progress and WITHOUT HDR rendering)


As you can see the CryENGINE is still one of the best engines out there and its real potential has yet to be fully explored. We are also proud that most of the graphics from Matto4 look even better than Matto3. For those who are asking, we cannot give you a release date. The map is nearly 50% done so the only date I can give you is somewhere in 2006! But when Matto4 will be ready, you'll be able to see over 300 new objects, new textures, gimmicks and more. So, wrapping things up ... it'll be available when it's done and it's going to be bigger and better ;-)
Write your comments in the Guestbook...

New Matto4 shots
26.09.05
We decided to release some new screenshots from the next Matto-blockbuster:


Having fun with SLOMO ;-)


Still having fun ;D


Nice graphics


Cool layout


Fight with AI-friends...


...and cool weapons


Beautiful canyons

(All screenshots are WITHOUT HDR rendering)


In Matto4 we have some dialogs, so we need voice actors. Our voice-recording here isn't very good, so we decided to ask you. If you have a good mircrophone and a good programm to record your voice, then e-mail us: matto_org@gmx.de, and maybe your voice will be in Matto4.
I also updated the screenshot section, it's just one, but a very strange picture from Matto3 ;-).


Write your comments in the Guestbook...

Matto4 shots...
27.07.05
Punctually, like I promised...


You can write your comments in the Guestbook... ;)
Counter-Box